BS17A-H24/2.0L

Stocked product
Inquiry / Quotations
3.5 inch bay size Ni-MH battery package
•Applicable power supplies
-PCFL-180P-X2S2
-PCFD-180P-X2S

•Input/Output signals (RS232C) to correspond to automatic shutdown at blackout with BATT OPERATE (AC FAIL), BATT LOW, and SHUTDOWN
* Contact us for TTL signal if required.

• Perfect compliance with RoHS
Note: This product is designed for Standby use only. Cycle use may shorten the lifetime. Contact us if cycle use is required.
Battery Data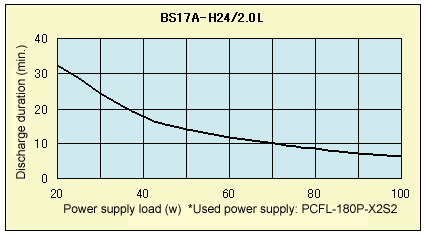 Standard, specifications
: For standard and specifications, click each item.
| | |
| --- | --- |
| Compatible case size | 3.5 inch bay size |
| Outline drawing | 101.5Wx25Hx180D |
| Weight | 0.90 kg typ |
| Applied battery | Sealed Ni-MH battery 1.2V x 8 in series connection |
| Nominal battery power voltage | DC 9.6V |
| Rating capacity | 2.0Ah |
| Built in fuse rating | 30A 32V |
| Operating temperature | 0 to 45 deg. C/10 to 95% |
| Storage temperature/humidity | -20 to under 30 deg.C within one year<br>-20 to under 40 deg.C within 90 days<br>>-20 to 50 deg.C max. within 30 days |
| Warranty | One year after delivery; if defects belong to us, the defective unit shall be repaired or replaced at our cost except defects caused by over discharge. |