Low leakage Current Specification


Conducted Emission Class B compliant


Models lined up suitable for motor-load High power with Peak current


Coating specification


Convenient size for rack mounting


12V standby output equipped


Blackout detection signal equipped(Backup operation is availble for 24V output unit.)


High efficiency power supply corresponding to environment preservation


Other features

Low leakage Current Specification
GPSA series meets the leakage current of less than or equal to 0.5mA at nominal input voltage that Medical standard IEC60601-1 requires.
In the case of multiple power supplies connected to one system, total leakage current of the system can be kept low when GPSA series is used. Also, using GPSA series as intermediate bus, low leakage current system can be built with D/C converters after the power supply.
Actual measurement example
| | | |
| --- | --- | --- |
| Input | GPSA-360-24-TP | GPSA-750-24-TP |
| AC100V | 0.17mA | 0.18mA |
| AC240V | 0.41mA | 0.42mA |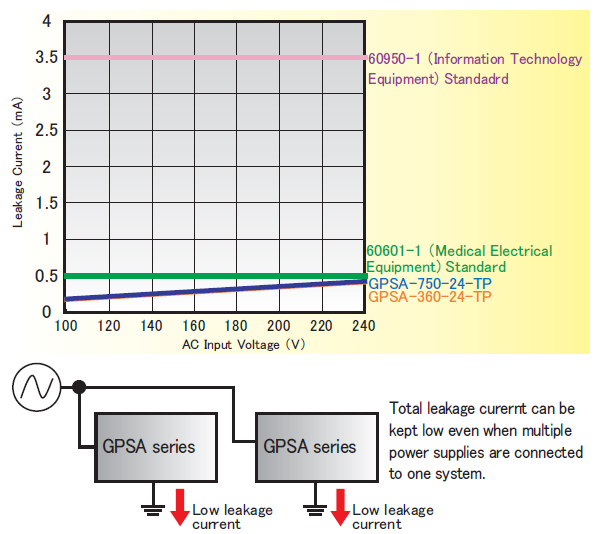 Conducted Emission Class B compliant
GPSA series meets Conducted Emission Class B requirement even with low leakage current specification unlike other power supplies that also achieve low leakage current while victimizing Conducted Emission (or inviting large noise).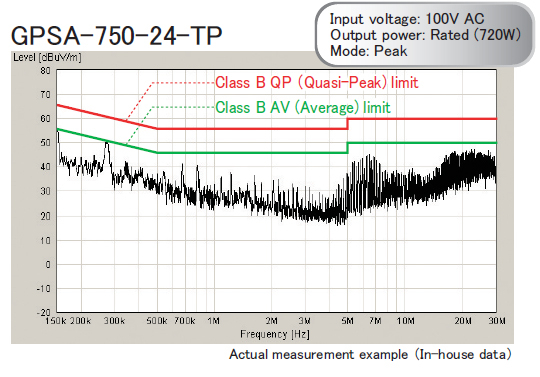 Models lined up suitable for motor-load High power with Peak current
Models lined up suitable for motor-load with regenerative voltage detection HV signal output(under evelopment)
Regenerative voltage
detection singnal
equipped

Model

Output

Voltage

Current

Peak

at AC 100V

at AC 200V

GPSA-500P-24-TP

24V

15.0A

20.8A

25.0A

GPSA-900P-24-TP

24V

30.0A

37.5A

50.0A

GPSA-500P-30/36-TP

30/36V

12.0A/10.0A

16.6/13.8A

20.0/16.6A

GPSA-900P-30/36-TP

30/36V

30.0A/25.0A

30.0/25.0A

40.0/33.3A

GPSA-500P-42/48-TP

42/48V

11.9/10.4A

11.9/10.4A

14.2/12.5A

GPSA-900P-42/48-TP

42/48V

17.1/15.0A

21.4/18.7A

12.5/25.0A
GPSA-500P series: Rated power 360W, Peak power: 500W at AC 100V/600W at AC 200V
GPSA-900P series: Rated power 720W, Peak power: 900W at AC 100V/1200W at AC 200V
For peak power at 100Vac, 120% of rated power can be derived for 5 seconds, and more than that at 200Vac.
Peak power is applied to all GPSA series as well.
(GPSA-360/750 series will be upgraded after existing models to strengthen functions. Further information will be noticed separately.)

Coating specification
Coating specification
All GPSA series will have PCBs COATDED.
(To be upgraded after existing models to strengthen functions.
Further information will be noticed separately.)
PCBs coated prevent power supplies from
critical troubles such as short circuit inside
caused by dust in heavy-duty industrial environment, and secure customer's system.
Model:GPSA-360-24-00C
:GPSA-750-24-00C

Convenient size for rack mounting
GPSA series employs convenient size suitable for 19 inch rack mounting.
For GPSA-360/500P, 1U Width and 3U Height
For GPSA-750/900P, 2U Width and 3U Height
Also, battery package employs 1U in width and 3U in height available to 1U, 2U, and 3U rack mounting.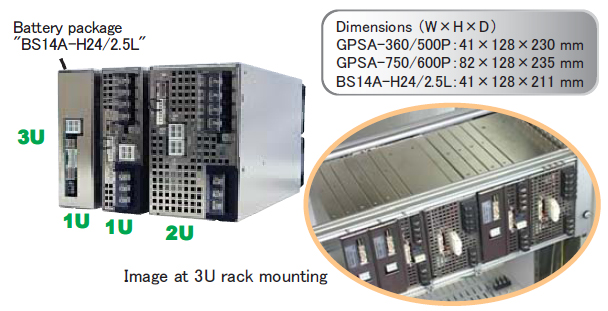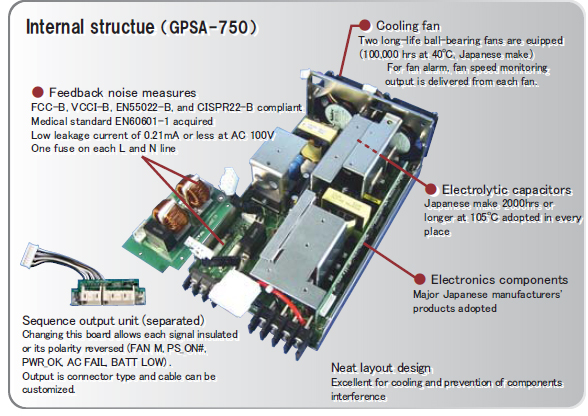 12V standby output equipped
This standby 12VSB supplies 0.3A, real ability is approx. 0.5A, as auxiliary power supply.
For examle, we have track record such as 24V for motor drive and 12VSB as power supply used for interface of LAN and USB for finance terminal equipments.
Model

Standby output

All GPSA series

+12VSB (auxiliary powe supply)

0.3A*1,2
*1 Real ability is up to approx.0.5A.
*2 0.1A is upper limit at backup operation during

Blackout detection signal equipped(Backup operation is availble for 24V output unit.)
All GPSA series is equipped with blackout detection signal.
Cost to produe detection unit can be eliminated.
For 24V output type, in addition, backup operation at blackout is available.

Signal

Detection

Detection

Detection

Blackout detection signal
(AC_FAIL)

AC 80V or less

20 to 40ms

Open collector
Backup operation at blackout is available for 24V output type
Uninterruptible with battery package connected (24V)
With Ni-MH battery packages (BS14A-H24/2.5L) connected in parallel, up to 720W (3 battery packages in parallel) can be backed up.
Up to approx. 500W can be backed up with 2 battery packages in parallel.
Battery connection cable is connector system on both of power supply side and battery package side so that cable length can be
easily customized.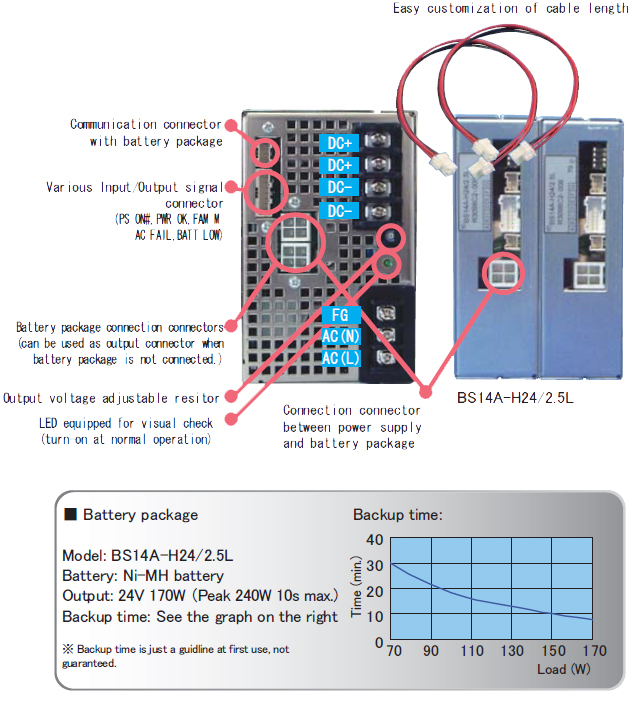 High efficiency power supply corresponding to environment preservation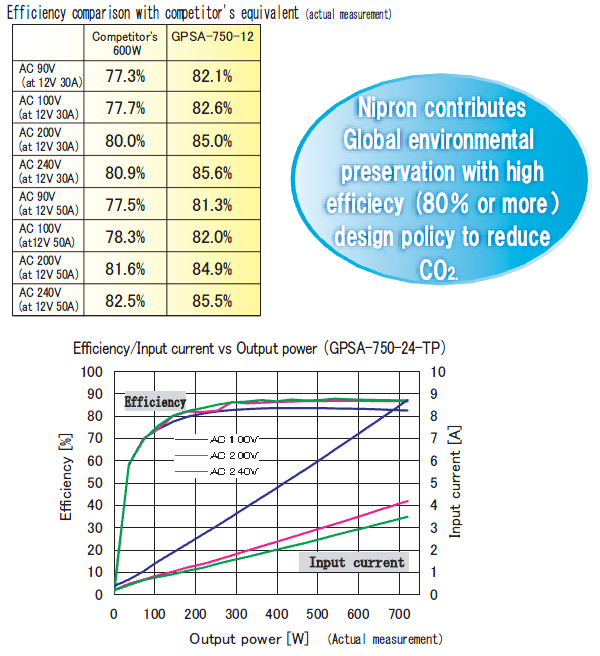 Other features
Silence
GPSA series controls fan speed by temperature detection inside the power supply.
Thus, the fan speed slows at light load inviting silence. (To be upgraded to strengthen funcitons after existing models; further information will be noticed separately.)
Series connection
Series connection is acceptable. Disparate output voltages can be connected in series.
(Ex. series connection of 12V and 24V type, etc.)
Remote ON/OFF function equipped.
Output ON/OFF control is also available by Remote ON/OFF signal (PS_ON).
Fan monitoring signal equipped
Fan monitoring signals (FAN_M1,FAN_M2) of the two fans installed are available. Those signals allow you to monitor fan speed.