<< Energy saving and Information security >>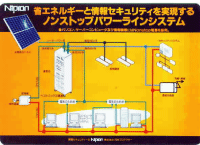 Photo 7.2°°Nonstop power line system
System down caused by various blackouts including power distribution line failure, substation failure, plug coming-off, UPS breakdown, embedded power supply failure, in client server system leads to critical failure as information is highly sophisticated today.
For existing UPS system, it contains fragility in not only cost and space but serial line connection, and never always secure safety against blackouts.
Nonstop power line system we propose realizes long-time backup and improve reliability with Nostop power supply equipped with AC/DC parallel input system for PCs, and with information power lines laid under the office floor and interactive star-connection system between electric reservoirs.
In addition, with Best Mix power supply connected, information power line comes to be multiplexed to realize absolute safety against blackout. Also, combined with inverter lightings, it brings safety and secure as disaster measures such as energy saving, information security, and earthquake, etc.